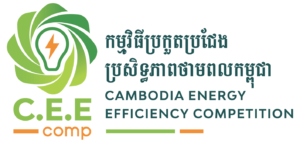 CEE Comp is a self-sustaining, multi-year campaign that will help boost energy efficiency in Cambodia.
CEE Comp is born from the alliance between IFPEB, the creator of CUBE, ITC and Sevea.
Based on IFPEB's competition format, ITC's paramount role in the Cambodian education system and public sector,
and Sevea's expertise in the sector of sustainable development, together they aim to bring energy efficiency
at the core of Cambodian citizens' daily life.
Inspired by a successful
french competition
The proposed competition is a Cambodian implementation of CUBE,
an existing contest run for 5 years in France and other European countries by IFPEB.
The success of the competition, based on resilient actions, collaboration and playfulness,
in France and across Europe during 5 years, led CUBE to expand internationally in countries
including Cambodia, Brazil and Morocco.
9.2%
average annual energy savings (with a record of 57.4%)
320k
employees with increased awareness