Educating employees to cut energy use reaps economic and environmental benefits
An idea born from a conversation in a Phnom Penh café four years ago has finally become reality with the official launch of the Cambodia Energy Efficiency Competition. Cecile Dahome, co-founder of consultancy Sevea and Frantz Vaganay, co-founder of electrical and automation solutions company ATS Cambodia were discussing how to improve the energy situation in Cambodia.
"We thought the best energy is the energy that we don't consume," Dahome said during a ceremony at the French Embassy in Phnom Penh.
They decided to adapt a French energy saving competition for the local market to change people's behaviour and reduce power usage in Cambodian buildings. This year's inaugural Cambodia Energy Efficiency Competition was organised by Sevea and the Institute of Technology of Cambodia.
Over the course of a year 15 companies will put management and workers in 23 buildings to the test in a race to use less electricity.
The French Embassy is one of the contestants and Ambassador Jacques Pellet said the competition would be a huge challenge but an important one, since research has shown that 70 percent of the energy used in buildings is wasted.
"We really hope this first edition will be the beginning of a great journey," Pellet said. "Of the 15 companies half are French and I thank them for being at the core for, maybe next year, having double the numbers and we would welcome Cambodian companies."
Secretary of State at the Ministry of Environment Tin Ponlok said energy efficiency is a top priority for several reasons:
"In addition to economic benefits and reduced greenhouse gas emissions, energy efficiency also contributes to the resilience of our economy. With energy production being impacted by climate change, managing energy demand has become an important way to reduce our vulnerability," he said. "I hope [the competition] will inspire others to join the movement. Just like we are talking about a 'new normal' after Covid-19, I hope that [participating companies] can be the pioneers of a 'new green normal' for energy usage in Cambodia," said Ponlok, who is also Programme Director of the Cambodia Climate Change Alliance (CCCA), which is supporting the competition.
The CCCA is funded by the United Nations Development Programme (UNDP), the European Union Delegation and the Swedish government.
UNDP Resident Representative Alissar Chaker said Cambodia stands to benefit from the competition.
"This change in mindset and practices will be crucial for achieving a much needed and unprecedented transition to low carbon development," she said. "Energy efficiency is one of these climate actions that also deliver immediate economic and financial benefits. Reducing energy footprint and energy consumption saves money that could be invested at the country level but also at the consumer's level elsewhere."
AMK Microfinance Institution is one of the companies taking part.
"We have 150 branches and we brought four of them into this competition," said Chief Financial Officer Lucas Moro. "We have both the smallest and the largest offices and the smaller branches have really embraced this competition. They very quickly made behaviour change and they see straight away in their invoices when they drop their air conditioning, they see their costs go down. At the head office and the largest offices it's a bit more difficult because there's more disconnect," he said, adding that the biggest challenge will be changing the behaviour of all AMK's staff.
Source: https://www.khmertimeskh.com/50982931/educating-employees-to-cut-energy-use-reaps-economic-and-environmental-benefits/

About the CEE Comp: The Cambodia Energy Efficiency Competition is implemented by the ITC and Sevea. It is a local adaptation of the CUBE competition initiated by the French Institute for Building Performance (IFPEB) as a bid to reduce carbon emissions in France. The CEE Comp is implemented in partnership with the EuroCham, EnergyLab, the Liger Leadership Academy, and the IFPEB, as well as with the financial support of Schneider Electric and the National Council for Sustainable Development under the Cambodia Climate Change Alliance Innovation Grant Facility, supported by the European Union, the United Nation Development Program and Sweden
Edition 2021
participating buildings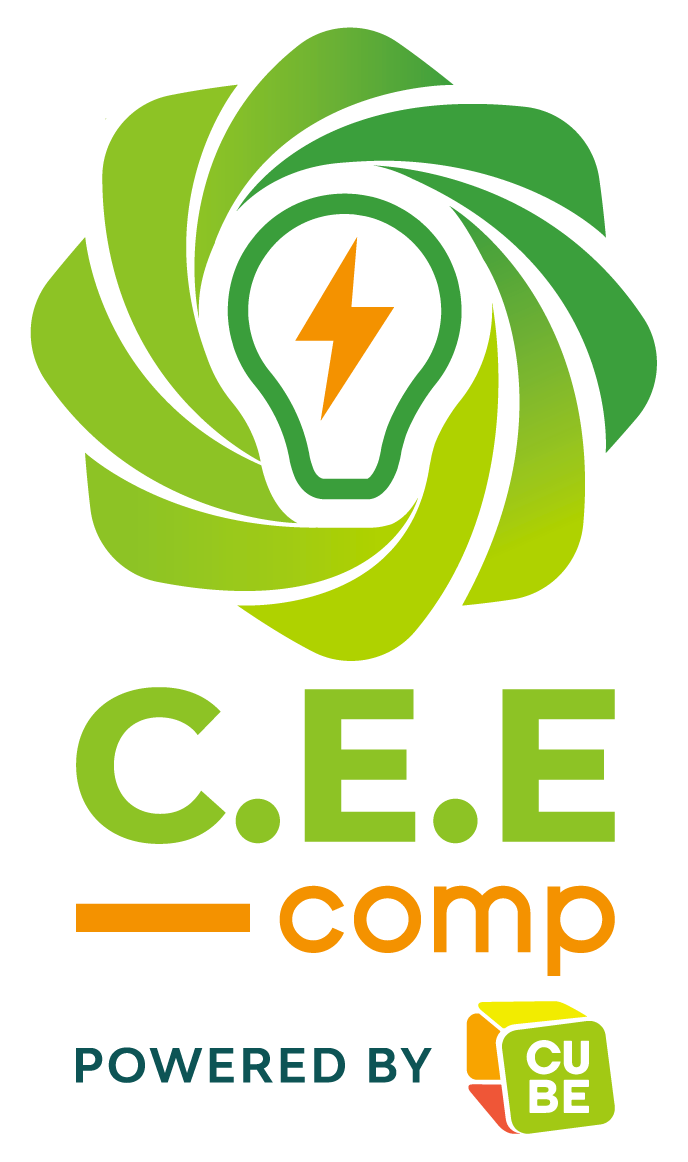 Organisers

Sponsors


Partners




Endorsers


Media Partners